Our Top 3 Best Black and Decker Rice Cookers (As Of January 2023) for the UK, Based On Reviews
Here are the top 3 Black and Decker rice cookers followed by a list of their latest models:


Advertising disclosure


Best Model 2023
Alpha
Rank:
#1
Our
Score:
8.9/10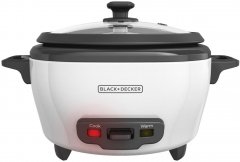 The Eight Latest Black And Decker Basic Models (as Of February, 2023)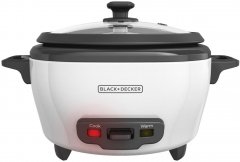 The RC506 is an everyday, middle-range rice cooker that can prepare 1 to 6 cups of rice of any type, cook soups, stews, and oatmeal, steam meats and vegetables while cooking rice, and switch automatically to function as a warmer after cooking has finished.

Apart from cooking 8 raw cups of rice (or 16 cooked cups), the Black and Decker RC516 rice cooker can also be used to cook meats and vegetables in its included steamer basket using its standard cook mode and auto keep-warm function.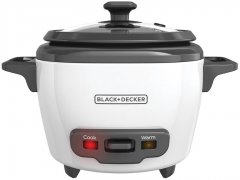 Probably made with small homes in mind, the RC503, with its 3-cup capacity and two basic functions (cook and keep-warm), is as simple as a combo rice cooker-food steamer can get.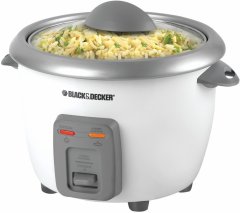 Apart from being a rice cooker and food steamer in one, the Black and Decker RC3406 is pretty unexceptional, with its 6 cooked-cup capacity (from 3 uncooked cups of rice), standard cook mode, and auto keep-warm function.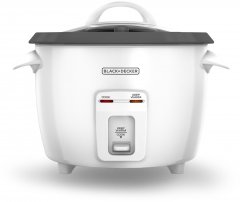 The 14-cup RC3314W, which can also double as a steamer, is a pretty straightforward rice cooker with its two basic (and rather standard) functions: cook and keep-warm.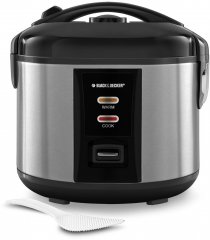 In spite of being fitted with a locking lid and a streamlined facade, the RC1412S remains to be a basic rice cooker at its core, with only two standard functions available (cook and auto keep-warm) to cook 6 raw cups of rice into 12 cooked cups.

This rice cooker does away with frills and sticks to the basics instead with its two basic functions (which are cook and keep-warm) and capacity of 3/4 to 3 cups of rice.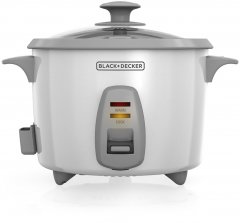 The Black and Decker RC436 is everything you'd expect a $29.99 rice cooker/food steamer to be, with its 16-cup (cooked rice) capacity, basic cook and auto keep-warm functions, and unassuming exterior.
You Should Also Check Out...