Compare the Latest 6 Hamilton Beach Rice Cookers 2023
List of the latest Hamilton Beach rice cookers in the order in which they were added to our database (To compare any of the 6 models, just click their Add to compare button):


Advertising disclosure

The Three Latest Hamilton Beach Large Rice Cookers (as Of February, 2023)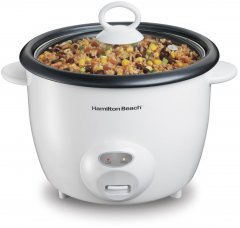 The Hamilton Beach 37522 rice cooker-food steamer combo doesn't offer any complicated or advanced specs, sticking only to the traditional cook and auto keep-warm functions to cook 10 uncooked cups of grains and prepare meats and vegetables in the included steamer basket.

Armed with a 15-hour delay timer and unique modes like Hot cereals, Heat/simmer, Steam cook, and Whole grain, the Hamilton Beach 37543 is sufficiently roomy to whip up 20 cups of cooked rice, oatmeal, pasta mixes, and quinoa (among others).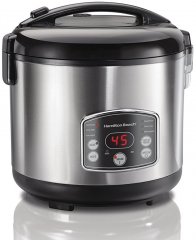 The 37541 is your normal 20-cup rice cooker that's been upped by a few notches through features like a 15-hour delay timer, a heat/simmer function for prepackaged rice and pasta mixes, and other extra programs like whole grain, steam, and quick rice.
Three Recent Basic Hamilton Beach Rice Cooker Models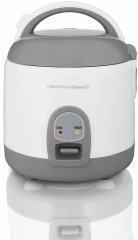 The Hamilton Beach 37508 rice cooker has enough capacity to produce 8 cooked cups of rice (and other types of grains) and cook meats and vegetables in the included steaming basket, although those looking for more advanced or sophisticated specs may not find satisfaction in this basic model.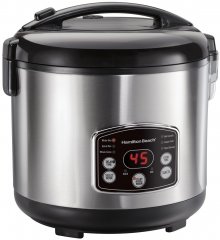 The Hamilton Beach 37548 is a hot cereal and rice cooker that can prepare 14 cups of cooked rice (from 7 raw cups) and has a 15-hour delay timer in addition to its preset functions such as Steam cook, Whole grain, Heat/simmer, and Hot cereals.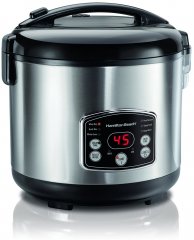 The 37549 rice cooker is Hamilton Beach's attempt in simplifying digital cooking, with its 14-cup capacity, 15-hour delay timer feature, and a single selector button for its preset programs: white rice, quick rice, whole grain, steam cook, and heat/simmer.
You Should Also Check Out...