Compare the Latest 11 Tiger Rice Cookers 2023
List of the latest Tiger rice cookers in the order in which they were added to our database (To compare any of the 11 models, just click their Add to compare button):


Advertising disclosure

The 11 Latest Tiger Japanese Rice Cookers (as Of February, 2023)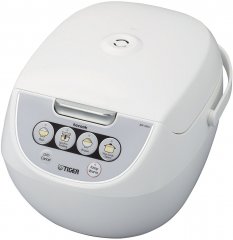 Aside from the more common plain rice and brown rice functions, the 5.5-cup JBV-A10U rice cooker also boasts of Tiger's Automatic Cooking Logic feature, which actively monitors the system temperature, and the
Tacook
Synchro-cooking function, which makes it possible to cook rice and steam dishes at the same time.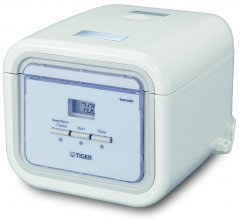 Armed with the Japanese-staple Micom technology, the Tiger JAJ-A55U rice cooker has numerous preset modes (such as risotto, quick rice, stew/soup, synchro-cooking, and cake) running at a capacity equivalent to 6 cooked-rice cups (or 3 raw cups).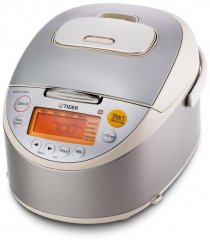 This induction Japanese rice cooker consumes quite a lot of power (1080 watts) for such a relatively-small 5.5-raw-cup capacity, but its array of eight different preset programs which includes brown rice, ultra, quick, and jasmine and it being a microcomputer-controlled machine explain its high energy requirement.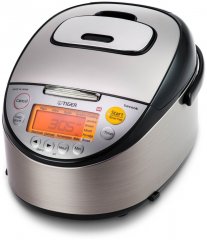 Apart from being part of Tiger's Induction Heating range, the brand also highlights the JKT-S10U rice cooker's preset programs like Bread-baking, Slow cook,
Tacook
synchro-cooking, Jasmine, and Brown, all running at a capacity of 5.5 uncooked cups and a wattage of 1080.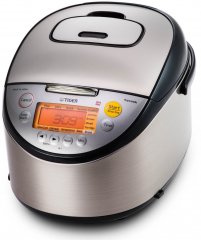 The Tiger JKT-S18U, which runs at a relatively-hefty 1198 watts, is a 10-cup (uncooked) rice cooker that comes with programs such as Bread-baking, Slow-cook, Synchro-cooking, and Jasmine, all running alongside Tiger's
Automatic Cooking Logic
and Induction Heating technology.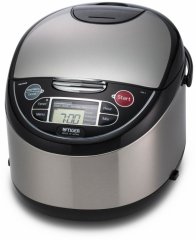 The 918-watt JAX-T18U rice cooker has a pretty large uncooked-rice capacity of 10 cups and combines Tiger's
Automatic Cooking Logic
technology with a variety of programs like steam, quick rice, slow-cook, mixed, and sweet rice.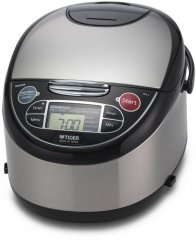 The 641-watt Tiger JAX-T10U is a 5.5-cup (uncooked) rice cooker that runs on the brand's
Automatic cooking logic
technology, steams food, acts as a slow cooker, and prepares a variety of dishes with its preset modes such as Porridge, Multigrain, Sweet, Mixed, and
Tacook
synchro-cooking.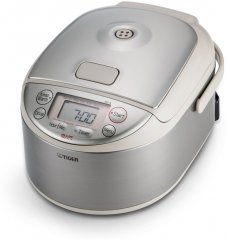 Armed with Tiger's automatic cooking logic system, the JAY-A55U is suitable for cooking 3 raw cups of rice (6 cooked cups) with modes such as quick rice, rinse-free, porridge, germinated brown rice, and mixed rice, among others.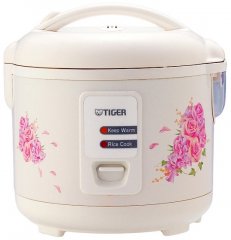 Although the Tiger JAZ-A18U rice cooker is equipped with only a fairly-common auto keep-warm feature, it has a rather long warm-keeping time of 12 hours and can hold 20 cups (1.8 liters) of cooked rice.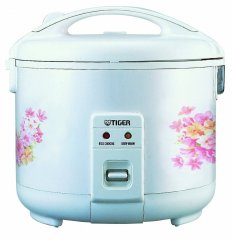 The Tiger JNP-1000, with its 5.5-uncooked-cup (roughly 11 cooked cups) capacity, is a pretty standard rice cooker (it has only two modes: cook and keep warm) save for the fact that it features a longer-than-average warm-keeping time of up to 12 hours.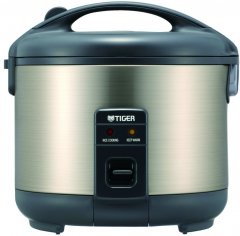 The Tiger JNP-S55U is a 305-watt rice cooker that is designed for personal or small-family use with its small 3-cup capacity (uncooked) accompanied by the usual cook and auto keep-warm (up to 12 hours) functions.
You Should Also Check Out...